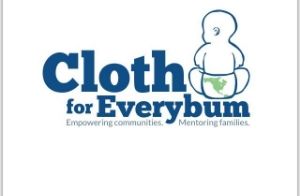 Cloth for Everybum is a 6 month cloth diaper lending program. We teach our kit recipients how to use and care for the cloth diapers provided. We also partner each recipient family with a trained mentor who can help guide them as they begin using cloth.
Who qualifies: ANY FAMILY
1. within a 2 hour radius of a Cloth for Everybum SITE regardless of income level or military status.
2. who will be living in this area for at least 6 more months, since our lending period is 6 months long.
3. who does not yet own any cloth diapers.
We trust our applicants to be honest while filling out the application to apply for the program. If you own a handful of diapers but are not using them at all because they don't fit or for some other reason, please contact us via cloth4everybum@gmail.com or the contact form on this website (below), and we can help you find local Cloth Diapering 101 classes that are available to you and we may also still be able to partner you with a mentor.
The mission of our program is to help families who are not able or willing to invest in cloth diapers on their own, so if you do already have cloth diapers or are planning to buy some, we ask that you please allow our available kits to be distributed to families who can benefit from them more.
Used diaper donations will still be gratefully accepted and may be re-sold on swap pages for fair prices. Funds are funneled back into cloth kits containing 18 prefolds, 2 inserts, 3 covers, 4 pocket diapers, 12 handmade wipes, 1 wetbag, 1 salve sample, and 1 detergent sample.
We purchase quality products wholesale so that your money is used as wisely and as effectively as possible. The decision to change from giving to lending was made in order to support the following mission:
Mission statement
If you teach a man to fish, he will eat for a lifetime. Our mission is not simply to give free diapers to low income families, but to teach the families how to use them.
We hope that recipients will be able to use the 24-36 diapers provided in their kit for several months in order to save money from not buying disposable diapers. Then the family may choose to purchase this kit OR their own cloth diapers of a type they prefer so they will have their own by the time their lending period has come to an end.